When boldness and creativity must go hand in hand with quality, productivity and cost management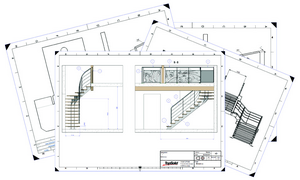 The metalworking/locksmithing sector is in full revolution and is experiencing a new boom. With architectural demands becoming more and more complex, competition from large-scale distribution more present than ever, and customers with growing demands, a simple structure no longer exists.
All of this is complemented by price pressure and shorter implementation times.
TOPSOLID has been meeting these challenges for more than 30 years and today with a solution dedicated to the metalworking/locksmithing sector. Discover how the fully integrated range of TopSolid products allows you to optimize your design and manufacturing process for the most complex structures.
Total design freedom
Based on the TopSolid'Design core software, TopSolid'Steel is a totally unrestricted design solution. Nothing is impossible, your imagination will be the only limit.
Be able to change everything at any time without redoing everything
Are the dimensions of the concrete correct? Did the customer change his mind? Can the stair take one more step? Is the distribution of the railing no longer appropriate? No problem! TopSolid'Steel is a parametric and associative solution.
Integrate YOUR rules into YOUR designs to meet YOUR needs.
A modification of the 3D will automatically update your production documents! (Bills of material of cutting lists, drafting and sheet metal unfoldings, etc.). Save precious time and limit the risk of error!
Design and manufacture in a single solution
Get the most out of your manufacturing process with TopSolid'Sheetmetal. Fully integrated with TopSolid'Steel, this additional module will allow you to create nestings, organize your production and drive your CNC machines. Punching machines, plasma cutting machines, laser, water jet, etc. from 3D to 5x through tube cutting, everything is under control!
The associativity of TopSolid is at your service, a modification of the work will result in an update of the nesting and cutting/punching programs!
Customer Success
Need more information
A QUESTION ABOUT OUR
PRODUCTS OR SOLUTIONS?