Claiming to be the best is not enough. You have to prove it!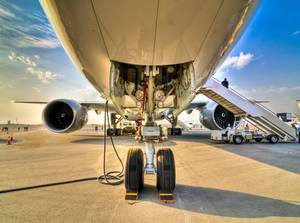 Aerospace is a major industry in France, so it really counts for Missler Software! Missler Software has acquired unique experience in this field through its collaboration with the majority of the industry's subcontractors. It ranks amongst the leaders in aerospace technologies, with thousands of parts machined using TopSolid'Cam. While these parts are often machined in continuous 5-axis, more and more of them are being machined on MillTurn machines, which are one of TopSolid's specialties. Our machining strategies can meet all of this industry's demands, in terms of precision or the type of material.
You benefit from our customers' experience
TopSolid is used amongst aerospace subcontractors on a massive scale. Historically, Missler has always machined parts from external CAD tools, guaranteeing the application of tolerances and the management of assemblies on increasingly complex machines.
Automatically produced workshop documents and phase drawings
Thanks to the integration of a powerful CAD modeler, with high-performance drawing functions, TopSolid has always been capable of meeting the demanding specifications and the stringent standards that apply in the aerospace industry. Users do not waste any time producing documents and any risk of incorrect interpretation is eliminated.
Import, adapt, define your assemblies and machine
Once a part has been imported in native format or using an exchange standard, the FreeShape tool will help you transform the dimensions of the part from their nominal values to dimensions including tolerances. Reserves for rectifications and treatments can also be easily integrated. Once this step is complete, you can define your assemblies and start programming.
Cut lead times and boost productivity
The specifications of aerospace parts demand short lead times, precision, repeatability and traceability. All for an ever-decreasing price. TopSolid helps you boost productivity and protect your margins, thanks to its expertise in this field.
Customer Successes
Need more information
A QUESTION ABOUT OUR
PRODUCTS OR SOLUTIONS?