TopSolid Training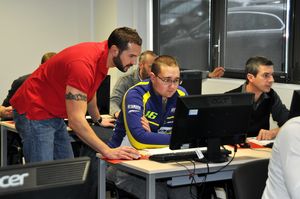 By investing time and money in training, your company is assured of making users productive as quickly as possible during the implementation and deployment of TopSolid in your company.
The courses take place in dedicated training rooms equipped with a video projector. Each trainee is provided with a workstation and a training manual as support for the theoretical parts and practical exercises.
The intra-company training sessions take place as follows:
1 room for exclusive use of the training
1 trainer workstation
1 workstation per trainee loaded with the product license, its key and its protection code (the configuration of the workstation must correspond to the recommendations of TOPSOLID),
1 video projector (resolution mini 1280x1024) connected to the workstation placed at the disposal of the trainer,
1 screen of projection

TOPSOLID SAS proposes a range of modules of standard courses given in its network of resellers. The control of knowledge at the end of course is carried out by its resellers in one of its agencies, with a view to the delivery of a recognized diploma, in the event of success with the controls.
Need more information
A QUESTION ABOUT OUR
PRODUCTS OR SOLUTIONS?