TopSolid'Steel
The reference for 3D design software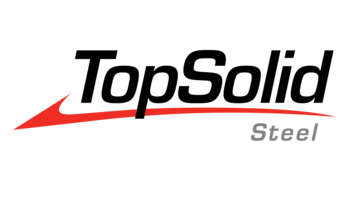 Design, organize and produce faster with 3D design software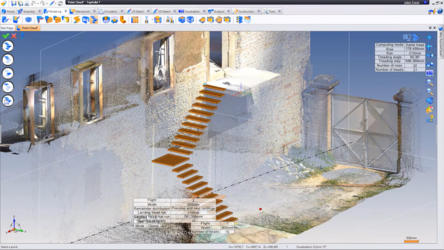 Environmental management
From the simplest to the most complex, TopSolid will adapt to your constraints and those of your customers.
Assisted modeling of buildings
Step, Dxf/Dwg, Rvt (Revit©), Sldsam/Sldprt (Solidworks©), IFC (BIM) imports, etc.
Point cloud import (xyz, pts, ply, etc.) compatible with any brand of 3D scanner and photogrammetry system
Limitless design
Model your ideas without restriction, express your creativity with works that look like you!
Design based on profiles, sheet metals, mechanical parts, etc.
Multi-materials (steel, wood, glass, composite, plastic, stone, etc.)
Job orders (staircase, railings, bars, etc.)
Complete sheet metal module (unfolding, bending loss rules, rolling with leadout, etc.)
Numerous integrated libraries:

Profiles, hardware and standard materials
Profiles and accessories for joinery manufacturers (Forster, Jansen, Rp Technic, etc.)
Hardware manufacturer (Wurth, etc.)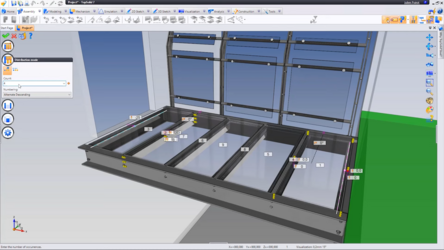 Parametric components
Maximum capitalization on your know-how. When profitability meets innovation in metalworking!
The most complete parameterization engine on the market, totally integrated and without programming
Unlimited fields of application (curved stringer, stair treads, railing filling, etc.)
Integrated machining processes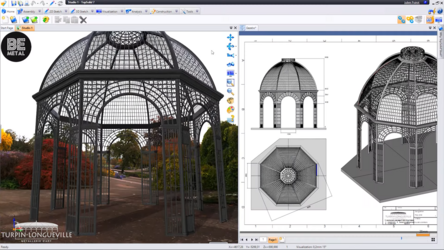 Realistic rendering
An unparalleled immersion for your customers. Avoid misunderstandings and facilitate decision-making!
Fully integrated realistic rendering
Real-time management of PBR materials (colors, roughness, normals, metallicity, etc.)
Real-time management of reflections, shadows and transparencies
Positioning of 3D structures on photo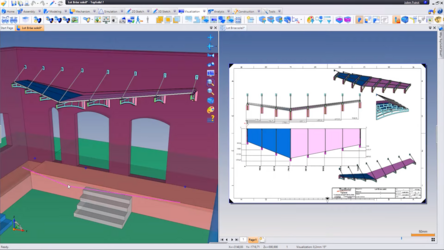 Associative design
Save time on your modifications and avoid many errors.
Modeling of structures directly in the environment
The modification of the environment leads to the update of the work while respecting the designer's rules and manufacturing constraints
The update of the work leads to the update of the manufacturing documents (draftings, unfoldings, bills of material, etc.)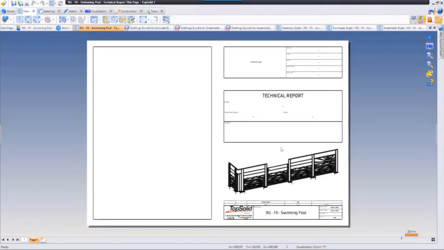 Automated manufacturing file
Focus on your added value by automating repetitive and tedious tasks.
Automatic creation of drafting documents
Automatic dimensioning/indexing
Automated drafting bundles (assembly of several draftings)
Automatic unfoldings of all the sheet metal parts
Cutting lists (profiles, sheet metals, glass, wood, etc.), supply lists, purchase lists, etc.
Export in many formats (3D PDF, IFC, FBX, X3D, etc.)
Easier interfacing with production tools thanks to numerous export formats (Dxf/Dwg, Nc1/DSTV, step, etc.)
Integrated bar layout to facilitate flow and better manage supplies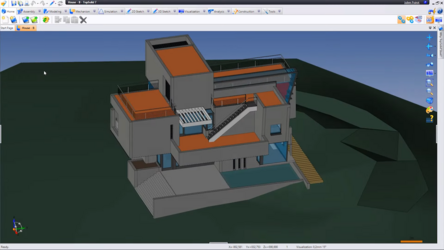 Work in BIM process
Integrate BIM processes serenely with a fully compatible solution.
Certified IFC and Revit© (Rvt) import
Management of layers, classes, groups, etc.
Integrated libraries of classes, pset, qto IFC
Commands dedicated to IFC (management of georeferencing, type of exported structure, history of IFC property, etc.)
Integrated OmniClass 2012 and Uniformat II classifications
Collaborative work on the same model with isolation of work areas, automatic assembly of areas, etc.
IFC export (2x3, 4)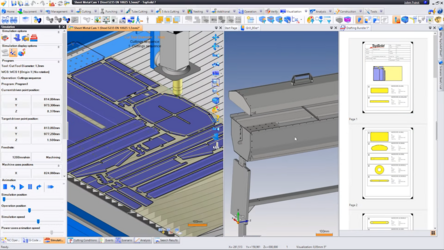 Additional modules
Complete your solution at your own pace according to your needs.
Photorealistic imaging to improve the quality of the renderings
Numerically controlled machine control (cutting, machining, punching, etc.)
Structural calculation by finite elements
Management solutions
ARE YOU INTERESTED IN THIS PRODUCT?
---
Discover software
TopSolid'Steel at a glance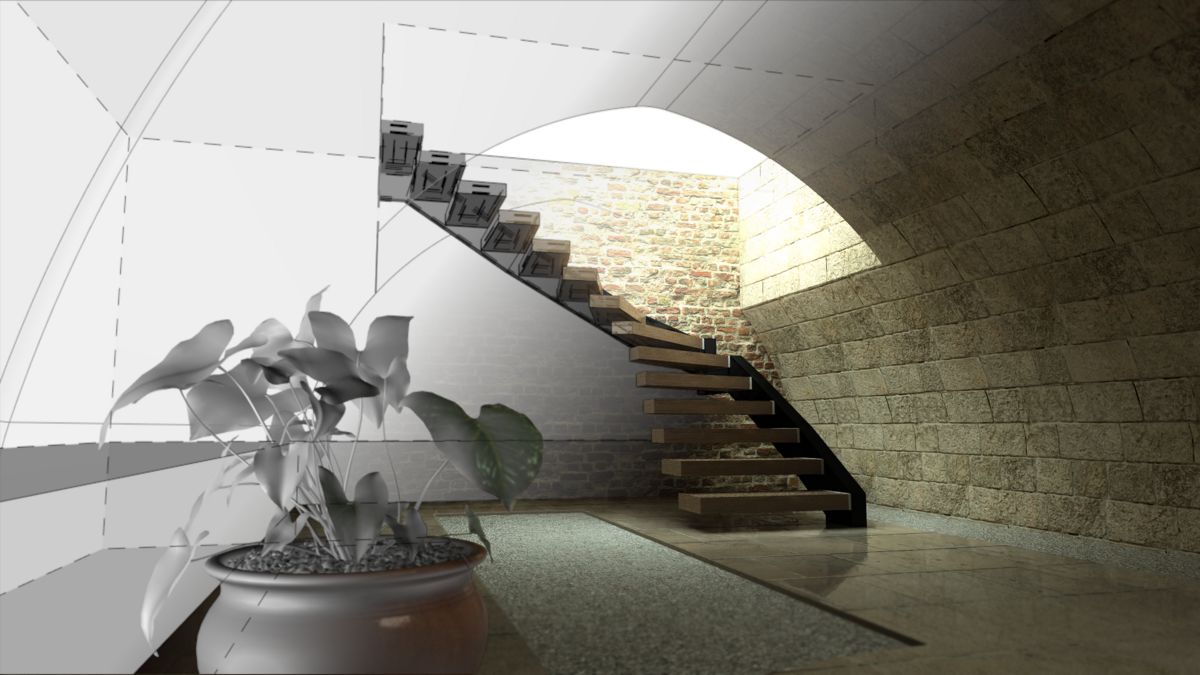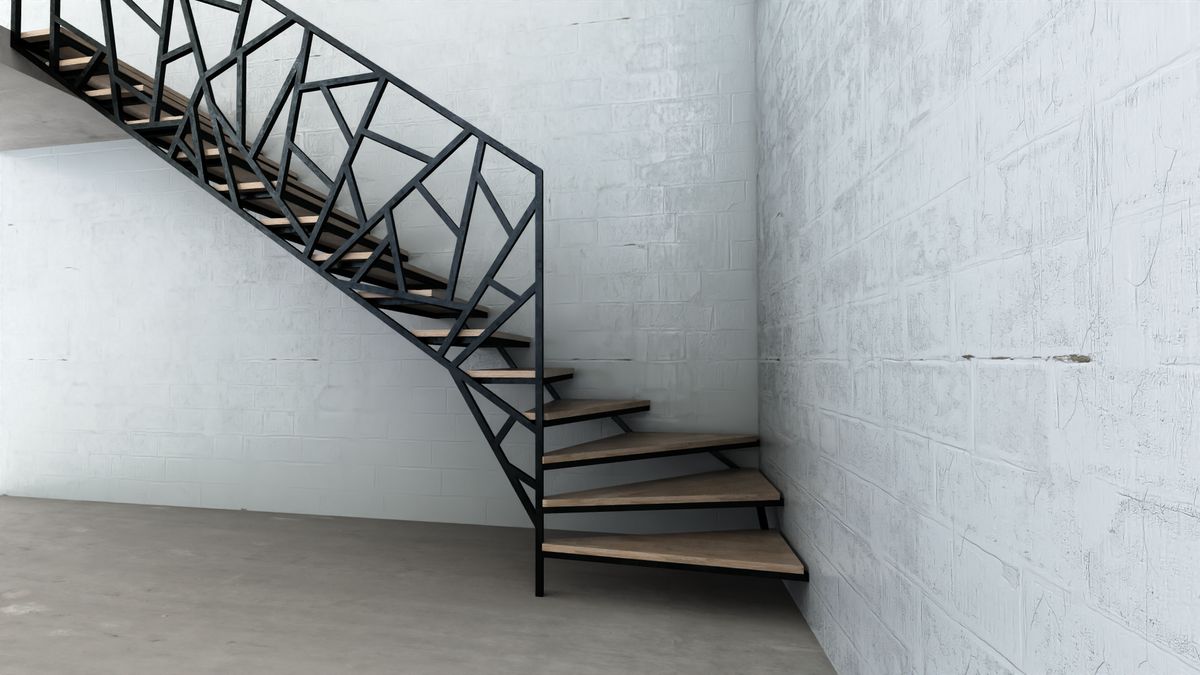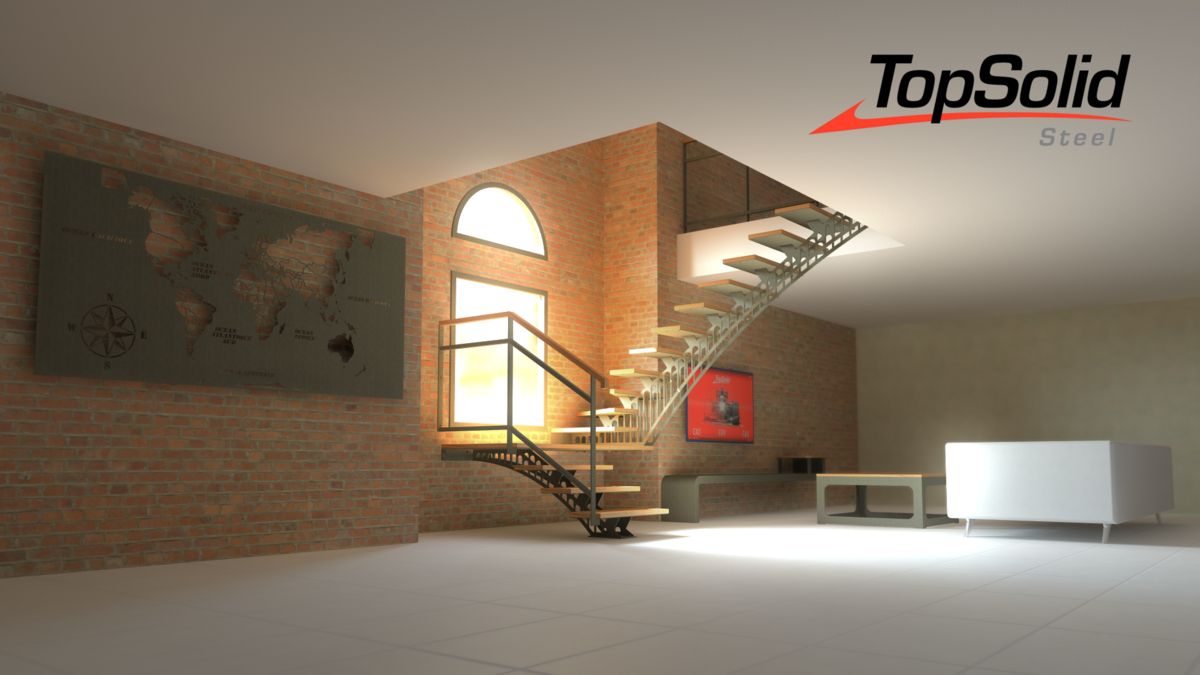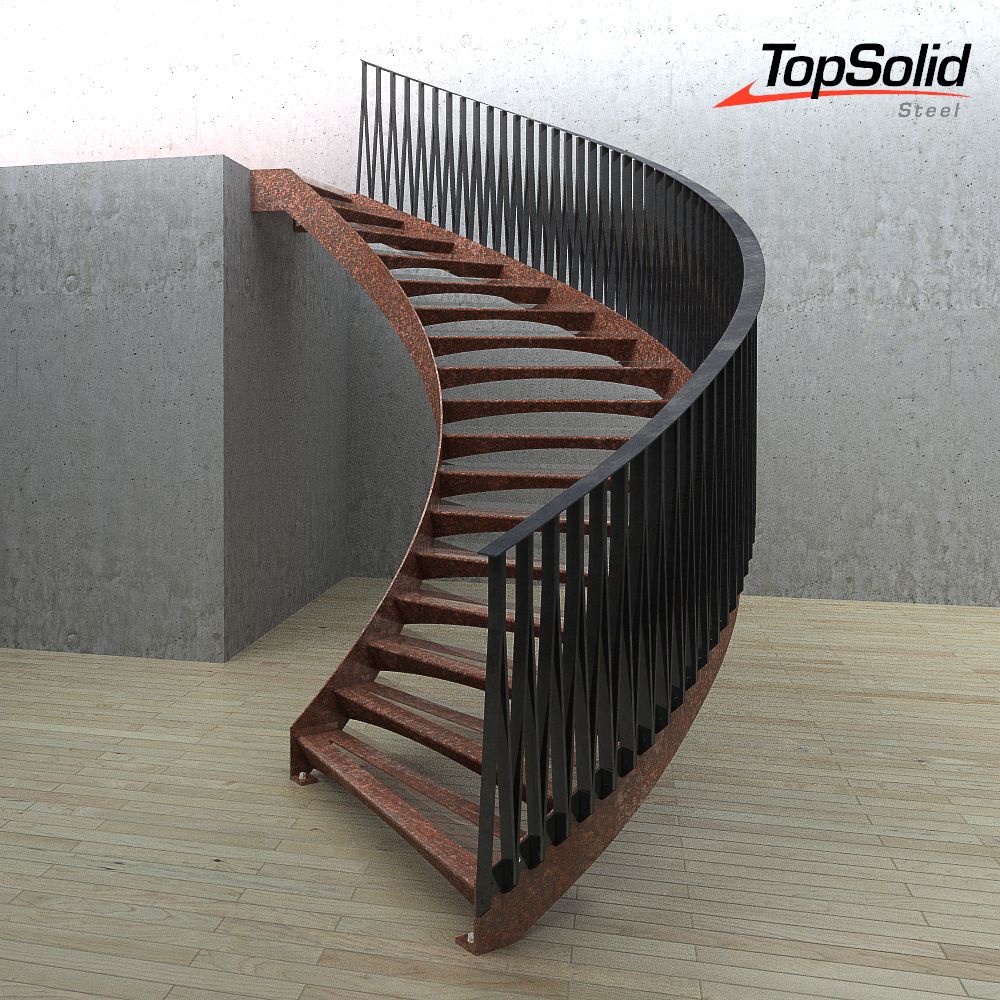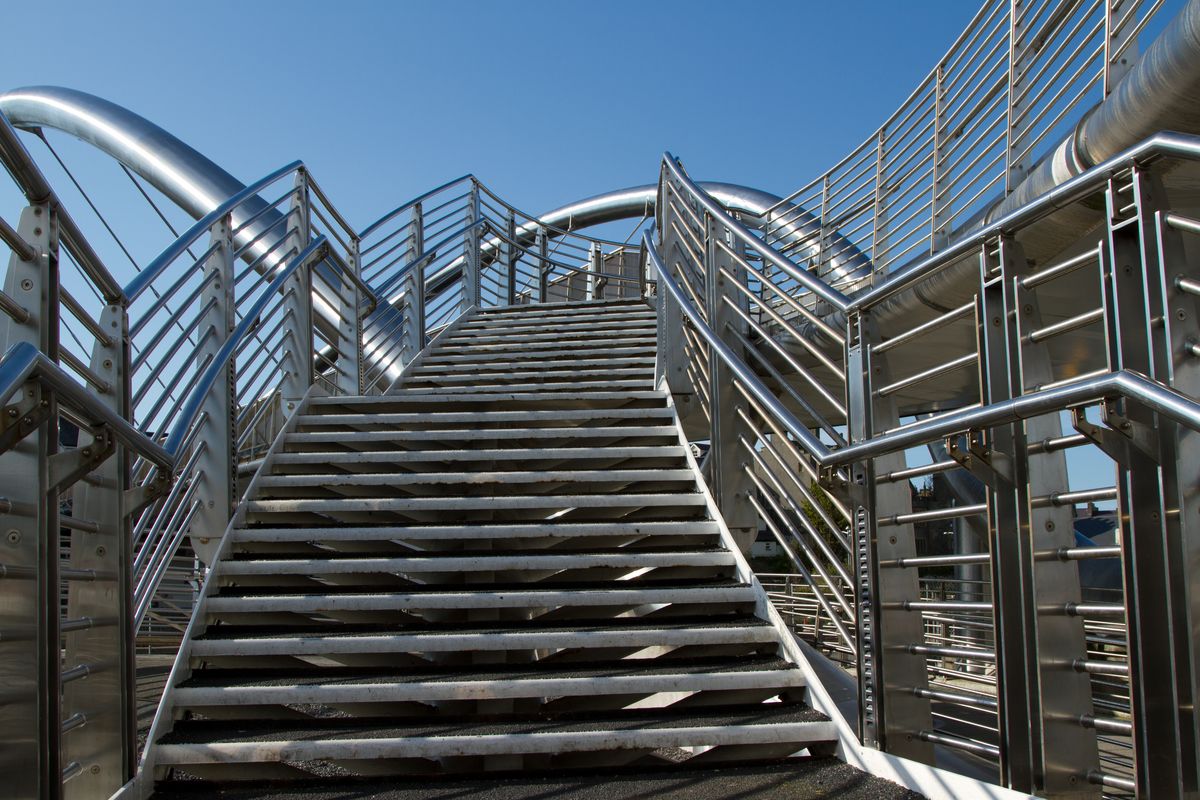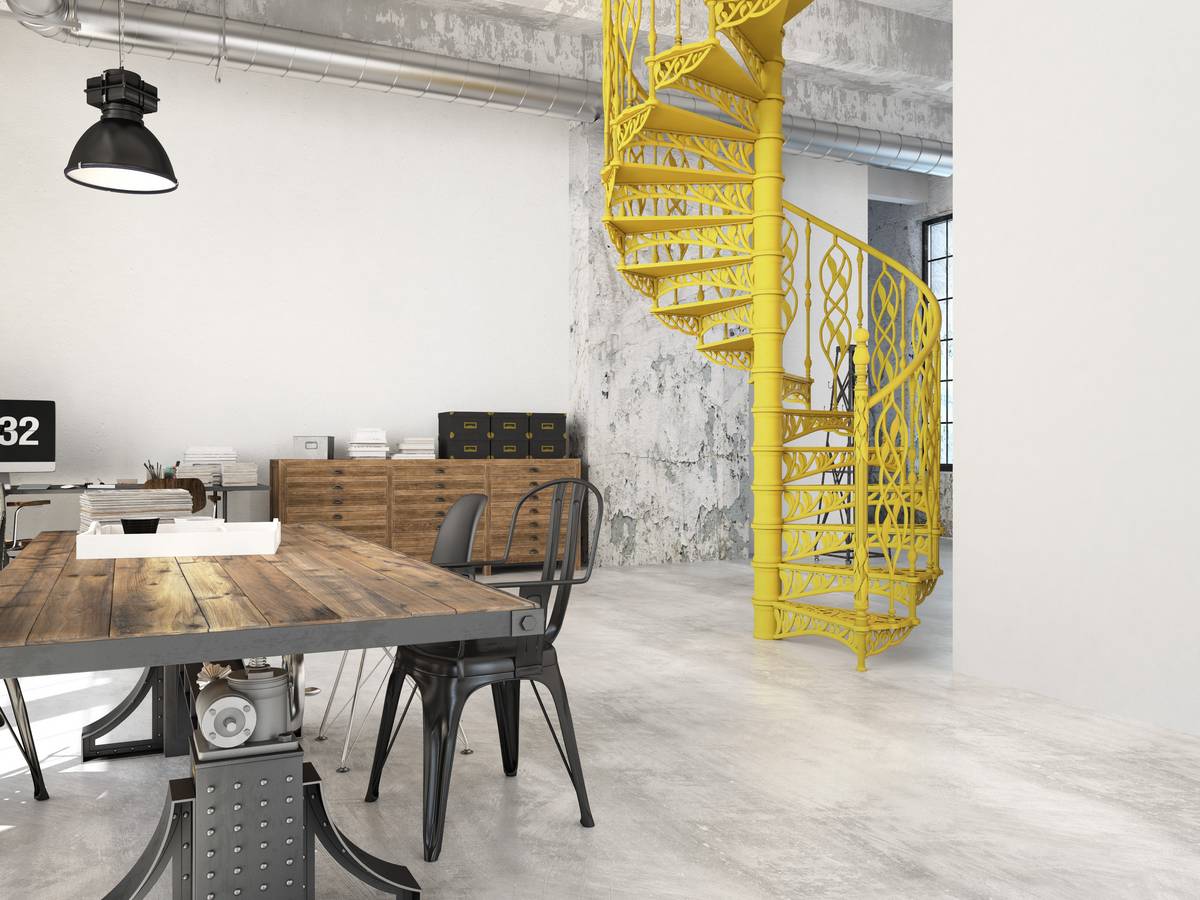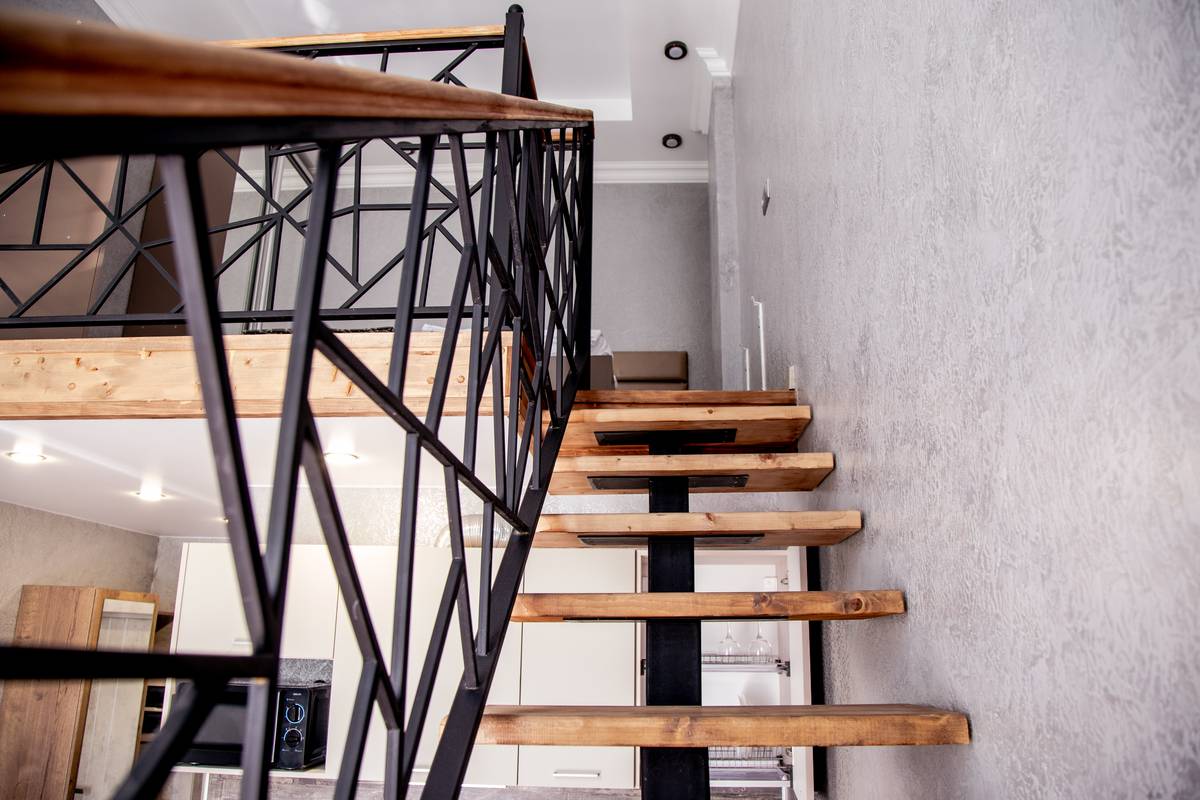 TopSolid'Steel videos
For more information
Download
TopSolid 7
The TopSolid 30 Day Trial is available for free and includes the full version of TopSolid and FREE tutorials to help you get started.
TopSolid'Viewer
TopSolid'Viewer allows you to view and share any TopSolid document (design, drawing, machining, kinematics etc) without the need for a TopSolid license. TopSolid'Viewer is free of charge and available in versions 6 and 7.
TopSolid'Store
TopSolid'Store offers free downloadable content around TopSolid.
TopSolid'Steel documentation
For more information
TopSolid'Steel News
Need more information
A QUESTION ABOUT OUR
PRODUCTS OR SOLUTIONS?