Simplified machining solutions for complex tools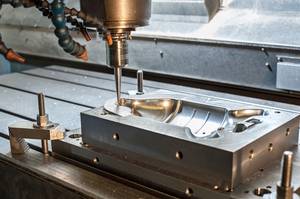 TopSolid has been in the forefront of the tooling sector for more than 20 years. It meets all the design and manufacturing needs of molds and the tools they are used to make. The globalization of production activities has made this sector fiercely competitive. Quality and delivery lead times are the top priorities. See how the totally integrated range of TopSolid products can optimize your design and manufacturing processes for even the most complex tools.
CAD/CAM for tooling specialists
With TopSolid'Mold, TopSolid'Progress and TopSolid'Electrode, Missler Software offers powerful tool design and manufacturing solutions for moldmakers and manufacturers of cutting tools. The integrated TopSolid modules for tools cover the complete digital chain, from design to simulation and manufacturing.
A world leader in CAD products, partly thanks to machining
Because the links between CAD and CAM are so powerful and tight, designing now means producing. Right from the design phase, you define the tolerances and the corresponding machining processes. In one click, you can retrieve all the information you need to produce plates, dies or electrodes.
2D, 3D, wire cutting electrodes
The machining of electrodes is kept under perfect control and automated in 2D, with the complete automation of the machining of the mold bases, thanks to the processes and methods. And in 3D too, with rough die machining strategies, or the recovery of residual material. Finally, the complex needs of toolmakers are also met by electric discharge machining.
Improved performance to stay ahead of the competition
In the ideal process, producing should be like drawing. The tool is designed in 3D, then the drawings are produced naturally. Thanks to TopSolid, this is where machining is heading. After defining the processes, every drilling operation, every pocket, every shape, electrode or wire cut is recognized and associated with a factory procedure. While it may sometimes be necessary to adapt in order to meet all the demands, permanent modifications are automatically taken into account using the associative mechanism.
Customer Success
Need more information
A QUESTION ABOUT OUR
PRODUCTS OR SOLUTIONS?