Evry, France, November 9th, 2021 - TOPSOLID SAS announces the availability of TopSolid 2022 (v7.16) Beta.
---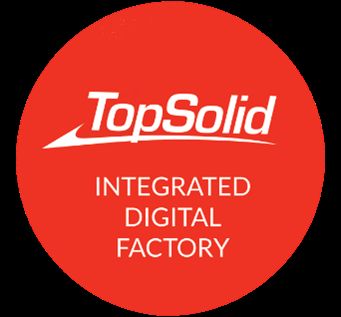 Each year TOPSOLID SAS invests nearly 20% of its turnover in R&D and enriches its TopSolid product line with hundreds of improvements and new features inspired by the feedback from our partners and customers. This new version of TopSolid is particularly rich and offers the market numerous innovations in existing products as well as new products to meet the needs of Industry 4.0.
To mark its commitment to Industry 4.0, TopSolid changes its visual identity and introduces "Integrated Digital Factory", the integrated software suite for the mechanical, metalworking and digital engineering industries.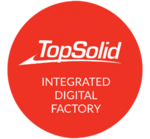 ---
TopSolid'Design 2022 is enriched with nearly 400 new features in Design, Steel, Mold and Electrode:
The realistic rendering module has been improved with the introduction of several major new features allowing high quality realistic rendering.
- A new Studio document to prepare realistic rendering scenes: ground management, noise reduction post-processing to compute ray-tracing images faster, photo camera to integrate realistic rendering on shots.
- New PBR materials for more realistic materials. Easy import of textures from specialized websites.
- FBX import with texture management and UV map to decorate scenes with textured objects from the many sources available on the Internet.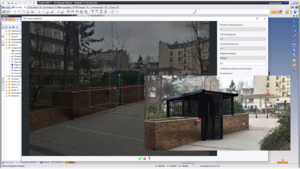 Calibration function of a camera on a photograph
Improved part marking to quickly mark multiple parts with properties, text, or a sketch.
Copy and paste parameters between different documents while preserving the expressions and relationships between these parameters.
Section nesting for fast optimization of profile flow.
FreeShape: notable improvements allowing to produce associatively modifiable parts coming from import, whatever the source.
Geometry recognition on a points cloud: It is now possible to select an area of a points cloud and recognize geometric entities such as planes, axis, landmarks and cylinders.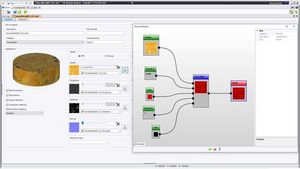 Graphical definition of PBR materials
Distribution with orientation management to respond to inclined distributions (rampant railings, stairs...)
Grouping header and subtotals that improve the understanding of BOM tables in the drawing by creating groups with subtotals.
Calculated BOM column allowing the entry of formulas based on other columns (concatenation of information, calculation of dimensions, subtotals...)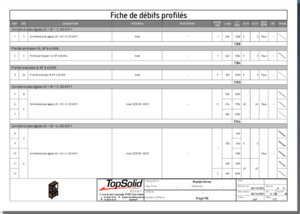 Advanced BOM table
---
TopSolid'Steel 2022 benefits from the same improvements as TopSolid'Design and it now offers a major functionality:
New command dedicated to the design of multi-flight staircases that assists the designer in the distribution of steps and landings.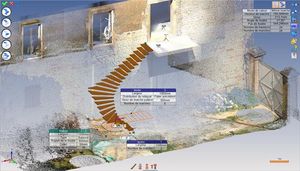 TopSolid'Steel offers an innovative staircase design control
---
TopSolid'Pdm 2022 integrates two major new functions:
Activate data replication and share your projects between all your production sites, wherever they are in the world, thanks to TopSolid'Pdm Multisite.
An affordable multi-site sharing solution.
Simple to set up.
Ability to replicate data on multiple remote servers.
Compatible with all TopSolid business modules.
Compatible with any type of Active Directory.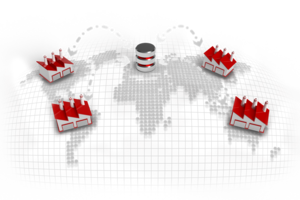 TopSolid'Pdm Multisite allows you to share the technical data of all your sites
---
TopSolid'Pdm WebExplorer, the remote PDM project explorer, using a simple internet browser, has been significantly improved:
The ergonomics have been redesigned for greater ease of use.
The view panel now integrates the management of representations as well as the view filters for the Tooling documents.
Import of non-CAD documents from the browser.
Document sharing by e-mail.
Package export from the browser.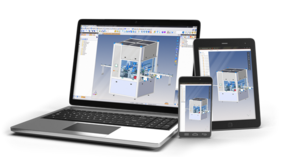 Consult your technical data from a simple internet browser on any type of platform
TopSolid'Pdm WebExplorer allows you to collaborate remotely with your design office teams.
---
TopSolid'Cam 2022 has been enriched with almost 180 new features and developments in all modules:
Grinding
TopSolid'Cam has been enriched with a grinding module including 4 dedicated operations:
Linear grinding by face and contour grinding.
Cylindrical grinding by face and contour grinding.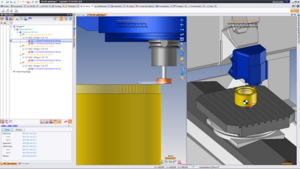 Grinding operations
5 axis (ModuleWorks integration)
Addition of 5-axis "Port Machining" operations for the automatic machining of port in roughing, finishing and residual machining.
Addition of an automatic deburring operation in 5 continuous axis.
Improved multi-axis pocketing function with the addition of side finishing and bottom finishing operations.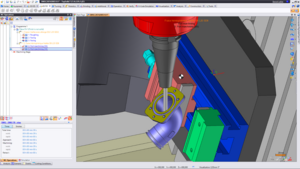 Port machining operations
Turning
Integration of the PrimeTurning™ method which allows turning in all directions with much greater efficiency and productivity than conventional approaches. PrimeTurning™ is a technology of Sandvik Coromant. TopSolid and Sandvik Coromant have signed a Licensing and Distribution Agreement to integrate and distribute this technology.
Addition of a machining operation in the YZ plane for external turning operations and for parting off.
Automatic management of the movements of the steady and tailstocks mounted on a turret or off-axis.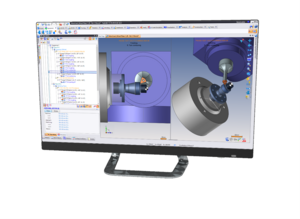 Turning operation Y-axis / YZ plane
2D Milling
New and more user-friendly contour roughing operation.
Added anti-collision control between the workpiece and the tool integrated to end milling and side milling operations.
Automatic trimming of nested parts in a plate by analysis of the machinable shapes.
3D Milling
Optimization of 3D finishing toolpaths by improving the algorithm for deleting out of-stock paths.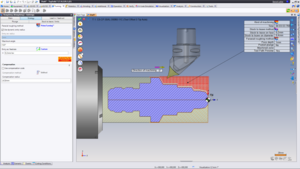 Operation PrimeTurning™
---
TopSolid'Cam Operator 2022 is the new name for the TopSolid'ShopFloor Cam product. It allows the operator to visualize, simulate and verify the machining sequences produced by TopSolid'Cam. Depending on the authorizations granted, the operator can adjust the machining program at the machine stand. The software thus improves the collaboration between the design office and the operators in the workshop.
A solution connected to the PDM to avoid any risk of machining the wrong part.
Access to the editing features is configurable on a user-by-user basis.
Program changes are tracked and logged.
Intuitive ergonomics that makes the application easy to learn and use.
A graphic interface compatible with touch screens.
Reliable and accurate simulation functions.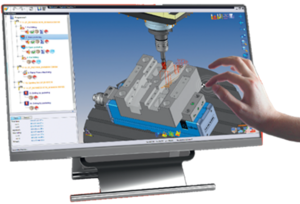 TopSolid'Cam Operator has a touch screen interface
---
TopSolid'Cam Simul 2022 is the ISO code simulation solution integrated in TopSolid'Cam.
A fully integrated ISO code simulation solution, complementary to routing simulation and verification.
TopSolid'Cam Simul reproduces the exact behavior of the machine.
The calculation of operation and interoperation times is even more accurate.
The solution has a program optimization function and can save up to 15% of machining time.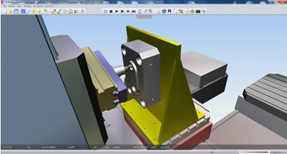 TopSolid'Cam Simul, the Iso code simulation integrated into TopSolid'Cam
---
TopSolid'Inspection 2022: The ballooning and dimensional control solution dedicated to the quality department of production companies which allows the creation of inspection reports.
Implementation of the ISO GPS standard to facilitate the capture of geometric tolerances.
Phase management and choice of inspection points per phase, this new feature allows you to manage the entire production line in a single project.
Management of the first and last parts in the inspection frequencies.
Management of additional balloon shapes and moving frames.
Automatic generation and management of inspection projects from TopSolid'Erp.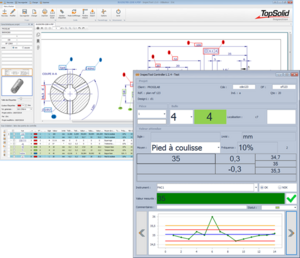 Dimension ballooning and measurement interface
More information about TopSolid'Inspection: https://www.topsolid.fr/produits/topsolidinspection.htm
---
TopSolid'Cut 2022: The integrated CAD/CAM solution that enables the design and industrialization of sheet metal, from the simplest to the most complex.
2D cutting
Management menu integrating new machining parameters: priming, micro-attachments, cutting, scheduling, burning, drilling, etc.
Catalogue of standard primers offering the possibility to create easily and quickly all types of primers by proposing calculation formulas. The centralization and sharing of your know-how with all your collaborators are guaranteed.
Functional enhancement:
- New cutting strategies by part or by sheet with sorting of the parts in the holes
- Ability to force I/O
- Automatic assignment of micro-clips
- Smoothed out trajectories
- Pointing, burning and drilling operations
- Sketch cutting
- Operator files
- Import/Export to Work Manager and ERP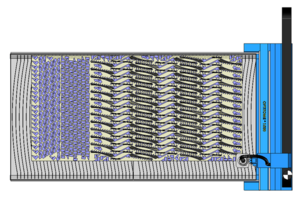 2D cutting simulation
The nesting module has been enriched with new features:
- Ability to schedule the placement of parts, especially to place large parts in priority
- Control of the number of references per support to save processing time at the machine
- From an empty format, realization of a manual placement with control parameters
- Tube nesting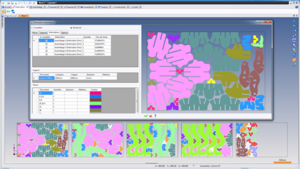 Enhanced nesting module
5-axis cutting
Speed step management: this feature is particularly important for optimizing the programming of waterjet cutting machines.
Possibility of assigning micro-attachments to the part to guarantee a quality cut.
Management of additional cuts such as loops, fillets, etc. to perfectly cut the corners of the part.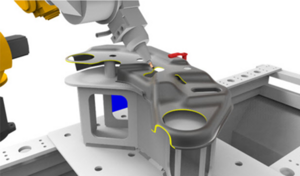 5-axis laser cutting module
---
TopSolid'Erp 5.16 2022 integrates more than a hundred improvements as well as a lighter graphic design making it more agile to use. A new CMMS module has been added to the functional scope of TopSolid'Erp.
A modern, clean design makes the interface lighter and easier for the user to read. This results in a more agile use.
The UX of the scheduling module has been improved allowing, among other things, to choose the scale of visualization in a single click with synchronization of the display areas.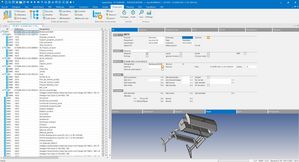 Clean graphics in all forms
A new integrated CMMS module (Computerized Maintenance Management System) to facilitate the follow-up of the machines and to ensure their good condition to optimize the production. This module allows to ensure:
- Corrective maintenance of your equipment, maintenance to be carried out after a malfunction or breakdown. A technician intervenes to repair or replace the defective elements once the damage is noted.
- Preventive maintenance, which allows to anticipate the defects, following a calendar of interventions for the revisions. This type of proactive maintenance allows to avoid breakdowns and costs of production stops with sometimes big repairs.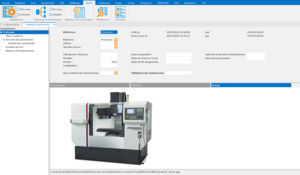 Declaration of equipment to be maintained
Main features of the CMMS module:
Declaration of equipment to be maintained
Declaration of spare parts
Declaration of corrective and preventive maintenance operations
Assigning tasks to maintenance employees
Maintenance Order Processing
Recalibration of the production schedule considering the Maintenance Orders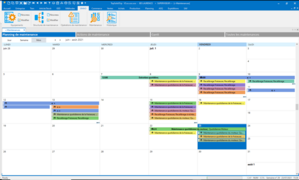 Planning of maintenance interventions
---
TopSolid'Quote 2022: The technical quotation software for sheet metal parts and assemblies.
With TopSolid'Quote, you can easily and quickly quote for tenders based on 2D and 3D geometries.
Customize and parameterize your technical costing rules as closely as possible to your production resources.
Quote module
Import your 2D (dxf, dwg) or 3D (STEP, IGES, Parasolid, Acis, SolidWorks, SolidEdge, ...) documents.
Management and storage of the CAD structure of your projects associated with quotes in the TopSolid PDM,
Automatic recognition of sheet metal parts, tubes and profiles.
Modify imported 2D and 3D geometries using the power of TopSolid'Design.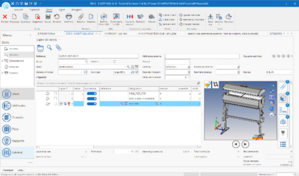 TopSolid'Quote for technical quotations...
TopSolid'Quote natively integrates pre-configured calculation rule models for all types of operations: punching, cutting, cutting, bending, welding, painting, subcontracting, etc.
Integrated 1D/2D nesting module for material requirement calculations.
Automatic routings with calculations from the execution of calculation rules based on the geometry and properties of the parts.
Direct entry of routings and operations with semi-automatic execution of calculation rules.
Considering the costs of transport, manpower, packaging, etc.
Visualization of the calculation details.
Integrated tool for customizing document editions.
TopSolid'Quote integrates the essential functions for the commercial follow-up of quotes.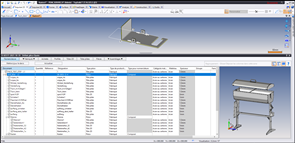 ... natively connected to TopSolid'Design
Modelling module for time and cost calculation rules
With TopSolid'CostDesigner, you can graphically create your own calculation rules, capitalize and reuse your know-how.
Pairing of variables in your rules with CAD properties and quote data.
Integration of customized charts.
Management of all types of operations: punching, cutting, cutting, bending, welding, painting, subcontracting.
Are you an enthusiastic TopSolid user? Do you want to be one step ahead of the latest technologies before they are made available to the public? Do you want to have a direct impact on the functionality and quality of TopSolid? Consider joining the TopSolid beta community!
Contact your local office to participate in the TopSolid 2022 Beta Program.
The official release of TopSolid 7.16 is scheduled for March 1st, 2022.
---
Need more information
A QUESTION ABOUT OUR
PRODUCTS OR SOLUTIONS?