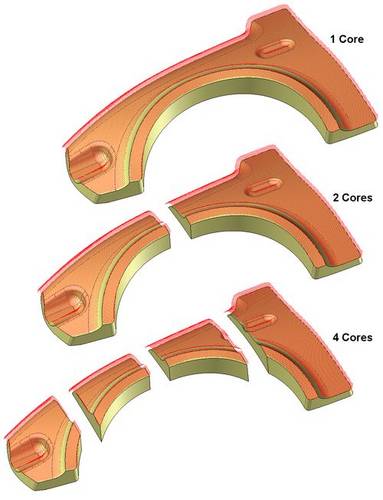 Missler Software and resellers presented the integrated TopSolid CAD/CAM software range at the upcoming IMTS show on booth E-3816 from 13-18 September. Many interesting innovations were presented on this year's IMTS including TopSolid 2010 and the next generation CAD software TopSolid 7.
2010 innovations
TopSolid'Cam 2010 facilitates the design and modification of symmetrical parts, the simultaneous edition of cutting conditions of several parts and now manages the parallel processing of multi-core processor calculations which enable users to dramatically reduce calculation times. Thanks to the possibility to carry out parallel calculations with the new multi-core processors available on the market TopSolid'Cam 2010 offers dramatically reduced calculation times (a reduction of 50-75% depending on the number of cores) notably in 3-5 axis operations which require a lot of power. TopSolid'Cam 2010 manages the multitasking associated with duo-core, quad-core and all new processors to come in the future. Tests carried out by Missler Software have shown that calculation times were divided by 2 when using a duo-core processor and by 4 when using a quad-core processor.
One of the main highlights of TopSolid'Mold 2010 is the advanced collaborative work possibilities available to mold makers. Several designers can now work on the same project at the same time. TopSolid's collaborative work options, which are unique on the market, offer significant productivity gains in complex tool design. TopSolid'Mold 2010 offers important improvements in collaborative design thanks to its improved ergonomy and advanced management of modification conflicts.
---
Need more information
A QUESTION ABOUT OUR
PRODUCTS OR SOLUTIONS?