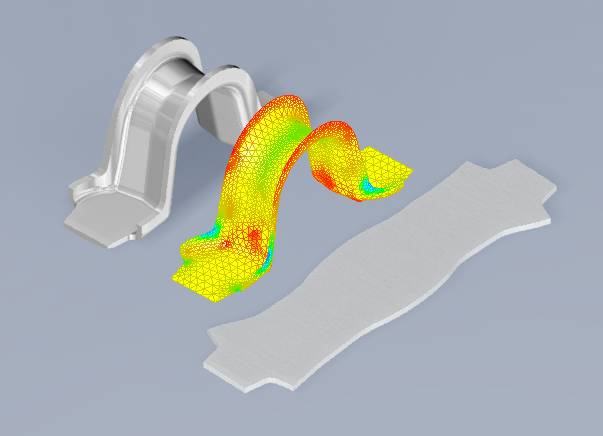 Missler Software and Forming Technologies Inc. (FTI) are pleased to announce that FTI will be a new Missler Software partner for blank shape development, stamping, and flanging simulation for its TopSolid'Progress software solution. FTI is a world leading provider of software solutions for the design, feasibility, and costing of sheet metal components.
Top of the range stamping simulation
TopSolid'Progress provides all the required functions to help die designers compute sheet metal blanks, design the strip layout and dies far faster than with standard CAD software.
The implementation of FTI technology in TopSolid'Progress offers many improvements. Developed blank shapes are more accurate thanks to FTI's Coupled Hybrid Inverse (CHI) solver, which provides a better simulation of the shift in the neutral axis. During strip layout design, FTI's accurate representation of real world forming conditions in local flanging operations brings accuracy, reliability and productivity to the geometry development for each operation.
Thanks to the cooperation between FTI and Missler Software, TopSolid'Progress customers now have more comprehensive stamping tools at their disposal thereby enabling them to achieve higher performance and quality.
FTI is proud to partner with Missler Software on this project. According to Dan Marinac, Director of Business Development for FTI "We are pleased to work with Missler Software, a leading CAD/CAM developer. FTI offers TopSolid customers world class optimized blank development and flanging simulation giving them an essential advantage in today's highly competitive progressive tooling industry."
Dominique Laffret, Vice President of Strategic Relationships at Missler Software, goes on to say that "Our collaboration with FTI corresponds with our customer needs to reduce design times and improve the quality of their progressive tool design by using unstamping simulation. It is logical for Missler Software to work closely with FTI who is a leading simulation provider, to offer our customers the most modern and optimised tools on the market for progressive tool design. We expect the Return on Investment for our customers to be less than 6 months."
Missler Software is one of the leading global suppliers of CAD, CAM and ERP solutions with its product line TopSolid. Missler Software offers a uniquely integrated solution for the mechanical engineering industry (general mechanical design, special machinery, tooling, boilerwork …) and for sheet metal and wood industries.
Thanks to its advanced technology and its fully integrated solution, Missler Software is experiencing rapid growth in the global CAD/CAM market. For further information contact info@topsolid.com or visit www.topsolid.com
About Forming Technology Incorporated (FTI)
Forming Technologies Incorporated is the world's leading developer of computer aided engineering software for design and simulation of sheet metal components. For the past 23 years, FTI has provided OEMs and suppliers in the automotive, aerospace and appliance industries with innovative software and training solutions designed to reduce development time and material costs. FTI has trained over 12,000 engineers in Formability and Die Design and is considered the Best in Class around the world for their industry training programs. For information visit the company's website (www.forming.com)
---
Need more information
A QUESTION ABOUT OUR
PRODUCTS OR SOLUTIONS?