Ipsam is a Belgian company at the forefront of the manufacturing of industrial cleaning vehicles, slurry transport solutions and innovative mobile machines. The Flanders-based company develops made-to-measure projects, most of which are mobile, for demanding customers in the environmental, industrial cleaning and agricultural sectors. Ipsam, which has been using TopSolid'Design since 2002, made the move to migrate to TopSolid'Design 7 in 2010.
---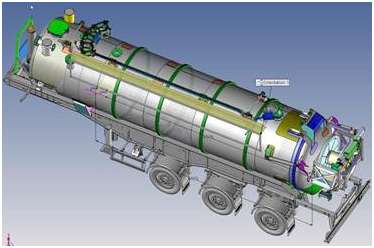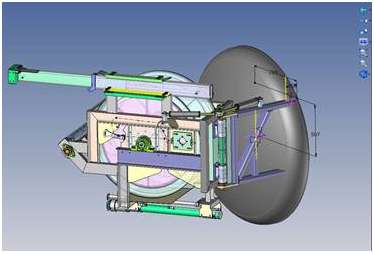 Ipsam develops products for the manufacturing industry using three main techniques: tank-building, high-pressure and aspiration. Ipsam builds tanks measuring up to 3 meters in diameter and 16 meters in length in its own workshops. This leading Belgian company also integrates pumping techniques into its tanks. Ipsam selects the right inlet pump or high-pressure pump for each application, to develop a so-called "combi" system that meets the particular needs. Agriculture represents Ipsam's second category of products. It was on the agricultural market that Ipsam scored its first successes. Ipsam proposes a broad range of slurry tanks for transportation and plowing-in, slurry spreaders and container tanks. The innovative machines are developed for the latter category, in applications for the environmental and cleaning sectors. They call on pumping and suction techniques that Ipsam has developed itself in the past.
Ipsam's activity covers all the design and manufacturing operations. The company purchases components such as the chassis, the high-pressure and vacuum pumps, the valves, etc.
Using parametric software
The introduction of a parametric CAD software application in 2002 allowed Ipsam to speed up its design process. By using the parts configured in TopSolid'Design, Ipsam is able to re-use parts that have already been created in order to shorten the design cycle. Ipsam often uses the TopSolid'Viewer to present projects to its customers. The TopSolid'Viewer can be downloaded for free and displays projects, drawings and the kinematical plans of the various products based on TopSolid, even if the application itself is not used. TopSolid'Viewer can be used to exchange documents in native formats with external companies that do not have TopSolid, without having to first convert them into a neutral format, such as IGES or STEP, using an interface.
The migration to TopSolid'Design 7
In 2009, Luc Cornelis from the TopSolid reseller 4D Services that worked with Ipsam, presented TopSolid'Design 7 to Paul Van Moerbeke, of Ipsam's design office. Mr. Van Moerbeke was immediately very impressed by the new generation of software, and spent many evenings at home getting to know the software and making plans for Ipsam's migration to TopSolid'Design 7. Mr. Van Moerbeke explains: "I quickly understood that we had to migrate to TopSolid 7, since the benefits for the company would be significant. But software migrations are no simple matter, and our workload prevented me from freeing up enough time to prepare for the migration during normal working hours. I had to retrieve the V6 libraries, configure the parts, prepare the TopSolid 7 libraries and think about how everything would function, because you don't work in the same way with TopSolid'Design 7. 4D Services supported us through the entire process and helped us to solve any problems that emerged, because, at that time, we were one of the very first TopSolid customers to migrate to version 7." In 2010, Ipsam's design office took the plunge and migrated to TopSolid'Design 7. In the following months, the company also installed the PDM Server in order to benefit from one of TopSolid 7's main advantages: a native, integrated and transparent PDM that is built into the software. 4D Services' CEO, Luc Cornelis, explains: "Some companies are reluctant to install the PDM Server, because they don't always see the benefits. Paul immediately grasped the significant advantages of working with an integrated PDM: more structured work, collaborative working methods that manage users and changes so that several people can work on the same project, quick searches for data on the assemblies, etc."
How Ipsam has benefited from the switch to TopSolid'Design 7
It is still too early for Ipsam to precisely quantify the benefits of the migration to TopSolid'Design 7. Paul Van Moerbeke explains that the design cycles have been shortened and that the company builds more trucks today than 3 years ago. "We must also bear in mind the fact that European laws and standards have become more complex. We have to meet the different national standards, and since we sell our systems all over Europe, this requirement makes the whole process longer." Paul immediately points out a number of benefits of the TopSolid'Design 7 software for Ipsam:
A user-friendly and smart interface that is easy to use
The integrated PDM and the notion of collaborative working, that is new to Ipsam
The speed at which large assemblies can be designed. Missler Software claims performance gains of some 30% in comparison with Version 6 of TopSolid
Project mode working. Ipsam worked part by part with Version 6. With TopSolid'Design 7, Ipsam works in project mode. This enables the company to create project templates that allow it to save even more time. Ipsam has not yet developed the project templates for its specific business, but believes that they will enable the company to make further significant time savings
The possibility for Ipsam to conduct precise pre-studies for sales purposes, e.g., using TopSolid'Viewer to present projects to suppliers. And once the contract has been signed, the pre-study acts as the starting point for the design process
Ipsam has not yet taken full advantage of all the possibilities offered by the new generation of TopSolid. The design office needs to continue to enrich its libraries by introducing new components that will fully optimize the design process.
---
Need more information
A QUESTION ABOUT OUR
PRODUCTS OR SOLUTIONS?