2021 was a record-breaking year for the TOPSOLID Group, with consolidated sales revenues of €53 million, of which 50% (€26 million) on international markets.
---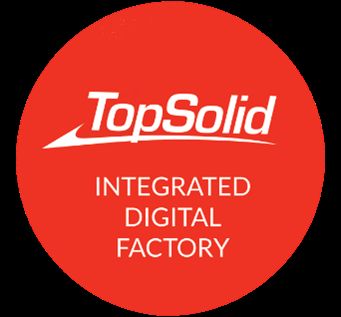 The French group has been one of the world's leading vendors of CAD (Computer-Aided Design), CAM (Computer-Aided Manufacturing) and ERP (Enterprise Resource Planning) software for 38 years. Its TopSolid Integrated Digital Factory offer is sold through five branches in France, a network of nine subsidiaries and 60 resellers from every continent.
2021 was a record-breaking year for the company, with an 18% rise in sales revenues, from €45 million in 2020, to €53 million in 2021. This growth was fueled by its French customers, but also by its customers in Germany, Switzerland and Japan, where the demand in the metal and wood industries returned to strong growth.
Thanks to the recovery plan in France, industrial manufacturers were able to invest in machinery and, by extension, in the software used to program it. TopSolid benefited from the strong resurgence of production in France.
The progress of the TOPSOLID Group was also due to:
the popularity amongst users of its uniquely innovative and technological platform, based on native PDM (Product Data Management). Users can navigate between the TopSolid solutions very easily. The TopSolid software applications are integrated.
the local service offer that TOPSOLID proposes to its customers and prospects (training, consulting, hotline, bespoke developments, etc.).
The publisher's policy of offering coherent solutions will continue in 2022, with a new organization of its solutions into four categories on its new web site:
Precision mechanics
Digital engineering
The wood industry
The metalworking industry
The TOPSOLID Group intends to keep up this momentum in 2022, with the development of new solutions for industrial manufacturers, in an effort to become THE essential partner in the digital transformation and the industry of the future.
"We are delighted to announce these very promising results for TopSolid! The pandemic appears to be behind us, and we can take great pride in the speedy and strong recovery of French industry! As our industry is digitalized, we will continue to develop numerous innovations that will enable our customers to achieve their ambitions and their transformation", explains Richard Lamure, President and CEO of the TOPSOLID Group.
More information at: www.topsolid.com
Press contact:
Agence Constance: Cécile Mendez – cecile.mendez@agence-constance.fr – +33 643185017
---
Need more information
A QUESTION ABOUT OUR
PRODUCTS OR SOLUTIONS?