S.A. Wauters (Leeuw-Saint-Pierre) has been using TopSolid to produce its store shelving, counters and displays for three years. This investment offers an integrated CAD/CAM solution for the design, visualization and manufacture of its various products. The software provides a number of advantages. The user obtains a concrete image of the item to be produced from the outset. It also speeds up the drawing process and the machines are controlled automatically using the program. This results in better quality and faster turnaround times.
---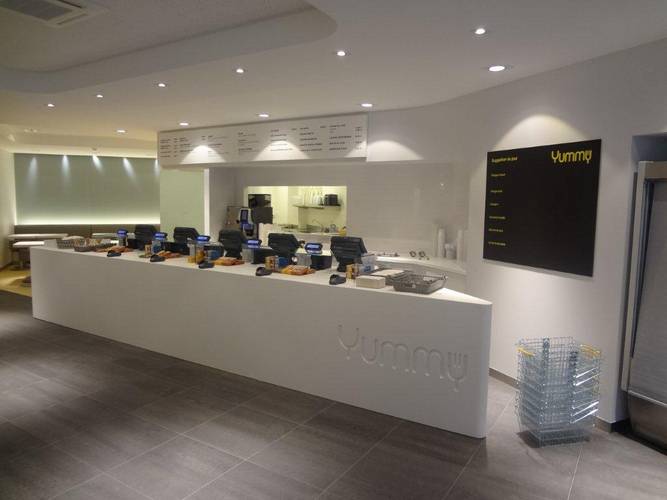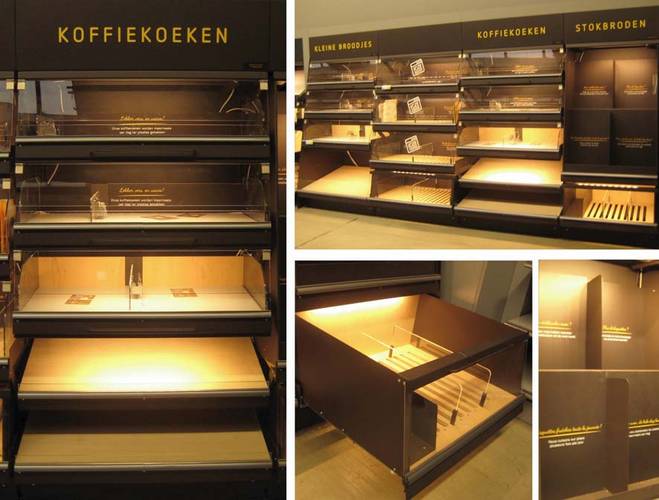 Shelving and displays
S.A. Wauters has been in business for 20 years, producing wood and metal shop shelving, counters and display units. The company generally works for large groups such as Delhaize, Philips, Tom & Co and Ixina. Wauters is also known amongst individual private businesses as a manufacturer of made-to-measure store shelving and counters. In terms of production, the company has its own carpentry and metal work departments, including a painting workshop.
Until three years ago, projects were designed using Arkey. This could only be used for simple projects, but did have the advantage of providing the possibility of working in 3D. However, the presentation of the project remained very basic. For more specific projects, drafters quickly went back to the traditional drawing board. The sketches were penciled on paper and then colored in by hand. This was no doubt noble work, but very time-consuming.
Wood-Metal combination
Three years ago, the company switched to the TopSolid solution, a software package distributed by 4D Services. Wauters uses three different versions. TopSolid'Design is the "mechanics" version. TopSolid'Wood is developed around the central TopSolid'Design kernel. It includes specific functions for wood work; for solid wood (mortise and tenon, profiling, counter-profiling) as well as boards (stamping, assembling cabinets, groups of holes, etc.). "We use TopSolid'Wood to design our products, to obtain the working drawings and the parts lists, and also for controlling our CNC machine," says drafter Jessy Klönhammer. "In our search for the right software, we contacted a number of different suppliers. It turned out that several good programs were available on the market, but we finally opted for TopSolid because for us it was the only program presenting the best possibilities for handling a combination of wood work and metal processing projects. We work with different materials so a combined software package was of paramount importance."
TopSolid'Wood
The program is the integrated CAD/CAM solution from Missler Software. It is the seventh most popular CAD/CAM system in the world, with over 20,000 licenses being used by companies world-wide. TopSolid'Wood was specially designed to be used in the wood industry. It can quickly generate a three-dimensional presentation. There are no limits in terms of geometry. The software includes a host of specific tools for wood work: profiling, counter-profiling, producing miters and grooves, edge veneering, stamping, etc. The software includes a library of components, into which new projects may be integrated so that previous work can be quickly found and used for each subsequent new project.
At Wauters, TopSolid is mostly used for producing project drawings. "It provides us with the possibility, using only limited means, of previewing a project in 3D. This allows our sales staff, and also our customers, to more easily appreciate what the store shelving or the display will eventually look like. This attractive presentation doubtlessly has a positive impact, commercially-speaking. We can generate a 3D PDF file and can e-mail a project to a customer. There also exists a free software package available for customers to download online (TopSolid'Viewer to view the project in 3D).
Working drawings and parts lists
If the project is approved by the customer, more technical drawings are produced. The different components making up the counter, display or shelving are drawn in detail. All the required work on the materials is also integrated. The program then automatically generates the parts lists. These are copied on to a simple disk, which is then transferred to the board edger and the CNC machine. As soon as all the parts have been produced, the assembly process may begin. For large counters, the components are assembled in advance. The minor work is finished off directly on customer premises.
Advantages of using TopSolid:
Improved accuracy
In Jessy Klönhammer's opinion, "The software offers a number of advantages. Firstly, the project can be better visualized, especially by 'laymen'. The customer can get a more precise idea of what final results to expect, because the project is directly produced in 3D. This software makes it so simple to turn the object around in any direction, enabling the customer to see it from all angles."
Fewer errors
The program is also advantageous from a designer's point of view. A project drawing is of little use unless it can be manufactured. Any errors in the project are picked up more quickly by the system, which saves considerable amounts of time. The direct link between 3D and 2D eliminates interpretation errors.
Accelerated work
It has also been observed that work has sped up. It is no longer necessary to start from scratch if changes need to be made to a project. Following the modification of a single part, the program recalculates and automatically adapts the whole assembly. One drawing suffices and it can easily be subsequently adapted.
A wealth of possibilities
The software provides users with more opportunities for following current trends in shop fitting, since more complex shapes can be quite easily used in the design. The sector has long been looking beyond standard geometric forms for its counters and displays. More and more organic shapes are increasingly being introduced.
Machine control
Lastly, the CAM function makes it possible to control CNC machines. The program analyzes the geometry and programs the necessary work with the tools, cutting conditions, etc. A post-processor then translates from the software to the Busellato Jet 3006 CNC machine. This also generates considerable time savings compared to when the machines still had to be individually programmed. "We have observed that a significant proportion of the work has been passed over," Jessy informs us. "Using this software package, the designer has more tasks to perform, instead of the workshop foreman."
Automatic offers and machining
A special module also provides the possibility of using the software to create automatic offers and invoices. Prices can thus be calculated based on unit prices, units of length, surface area and volume. Wauters has not yet opted for this module.
"We were already using a program for stocks, offers, price lists and orders, prior to acquiring this software. "Furthermore," we are told, "We also have numerous standard products which are not drawn and which do not therefore require using TopSolid."
---
Need more information
A QUESTION ABOUT OUR
PRODUCTS OR SOLUTIONS?