High precision mold making for plastic injection.
---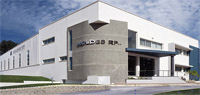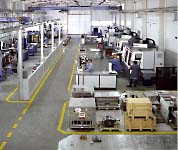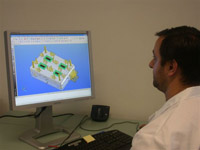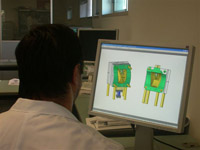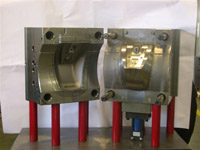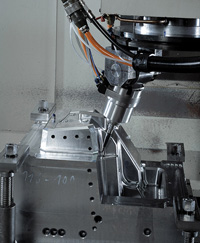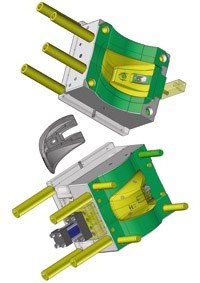 Name:

Moldes RP

Address:

Rua Nova Moinho de Cima
Cumeiras - Embra
PO Box 155
2431-902 Marinha Grande
Portugal


Tel:

+351 244 575 370


Fax:

+351 244 560 643


Web:
Activity:

High precision mold making for plastic injection

Licences:

4 TopSolid'Design
4 TopSolid'Mold

Company background
Moldes RP is specialized in high precision mold making for the plastic industry, namely in the automotive, houseware, electrical and electronics markets. In 2006 the company started designing all of its molds with TopSolid'Mold in order to increase efficiency and productivity.
Moldes RP was founded in 1990 by its present owner, Mr. Rui Pinho. The company employs 40 people and sells into the European and US markets. Moldes RP is located in Marinha Grande in Portugal , a part of Portugal and Europe with a high density of mold makers and where a strong tradition in moldmaking is still alive. The company is equipped with state-of-the-art machinery and highly skilled workers, thereby allowing it to supply high quality technical molds in competitive lead times.
The choice of TopSolid
Missler Software recently visited Moldes RP to see how the business is doing 1.5 years after the company started working with TopSolid.
TopSolid was chosen in 2006 after a detailed analysis of competing solutions on the market. Some of the main reasons for the choice of TopSolid were:
TopSolid is quite a well known software in Portugal and this was a very reassuring fact for Moldes RP who needed to be sure that the software they choose was well reputed.
TopSolid is in fact a CAD based software with mold specific functionalities. This means that the software has very powerful design capabilities and is specifically adapted to the mold making industry.
TopSolid offers CAD/CAM/ERP solutions for diverse industries: mold making, general mechanical, sheet metal, progressive die and wood. This gives Moldes RP the possibility to expand and progress while continuing to use the same software solution. 3 modules which could be interesting for the company in the future according to Rui Pinho are TopSolid'Electrode (electrode design), TopSolid'Wire and TopSolid'Cam (machining of electrodes and molds, these modules are completely integrated with TopSolid'Design and TopSolid'Mold)
15-30% time gains with TopSolid
According to Helder Cordeiro, mold designer at Moldes RP "Mold design now takes about 15-30% less time than before using TopSolid. In addition, in the past one person designed the mold in 2D and a second person created the 3D design. Thanks to TopSolid the need for a second person has been pretty much eliminated (even if the second person is sometimes required we still reduce design times by 15-30%).
In addition, we have completely changed the way we work which I would say is a great advance for Moldes RP. Before TopSolid I used to design the mold using a 2D package. The design was submitted to the customer for approval. Only after I got the approval could we make the 3D design of the molding areas and then start milling. With TopSolid everything is now designed in 3D from the beginning. Once we have the approval from the customer and even without having 2D drawings, we can start milling straight away (provided we have enough steel in stock of course), we also can start modelling the electrodes and thereby lose no time. This is a breakthrough for our company. In the moldmaking industry, generally, deadlines start when the customer approves the preliminary drawing. Everything is now prepared or easily modified if the customer requires changes so we can start programming the mold to be machined very quickly."
TopSolid in practice
Helder Cordeiro has designed in the region of 40 molds with TopSolid over the past 14 months. Training was provided by the local TopSolid VAR reseller, Isicom CAD. According to Mr. Cordeiro "We were supported by 3 technicians from Isicom CAD. They are not only very knowledgeable about TopSolid but they also come from a mold making background (2 previously worked in mold making companies) which is important for us. We need a reseller that not only understands the software but also understands the industry we work in."
Helder also gave us an idea of the time needed to make molds: "With TopSolid I design a simple mold in 25 hours, (all 3D and 2D elements included). For a mold of average complexity, it takes 80-90 hours. We can achieve such design times thanks to the parametric mold bases which we designed with the help of Isicom. The TopSolid libraries include several mold bases but we also created our own customized bases with accessories, etc."
Helder also refers to the significant reduction in the number of errors thanks to TopSolid. "The quality of our work has improved. We have been able to do away with the kind of errors that used to happen regularly in 2D such as forgetting to draw a screw and noticing this only when assembling the mold. It is also very positive that the same person who develops the design also defines the fitting areas so there are no problems in terms of communication or misunderstandings. The visual aspect of a 3D software is also important: we now see everything in 3D, we no longer have to try to imagine what the design is like."
So what does the future hold in store for Moldes RP. Company CEO, Rui Pinho is optimistic about the future "Despite the fact that the mold making industry has suffered in Europe over the past years I am optimistic for my own business and many other mold makers like Moldes RP. There is a place for precision mold makers in Europe . Companies with a technical advantage, high-skilled workers and excellent mold making solutions like TopSolid can succeed in the precision mold making industry. I plan to expand our operations by investing in further machines and most likely investing in further TopSolid modules."
---
Need more information
A QUESTION ABOUT OUR
PRODUCTS OR SOLUTIONS?