Galvanin Spa was created in 1968 as a metallurgical company. With a strong international presence, the company is today one of the most important producers of progressive and transfer tools dedicated to the mechanical timer and industrial engineering departments.
---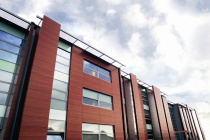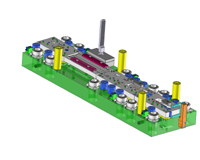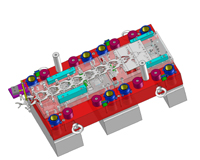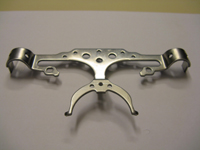 For over 40 years the company has invested in research and development for the small metal part sector. Today it supplies many important industrial fields such as automotive, household appliances, gas, hydraulics, pneumatics, industrial chemistry, lighting techniques and the textile industry.
In 2008 Galvanin Spa celebrated 40 years in business. Since its creation, the company has worked around two major axes: on the one hand, Research and Development, and on the other hand, social responsibility. Both of these have been a key to Galvanin's success, despite difficult economic contexts at various stages.
Luigino Galvanin, company director, today collects the fruit of working around these 2 axes: Galvanin Spa is recognized as world leader in its field of activity (on both a national and international level) working with the most cutting-edge technology available.
Galvanin Spa, the top of R&D
Galvanin Spa is highly qualified in the design process of steel and metal molds designed to cut and fold. The company is accredited by the "Ministero dell'Università e della Ricerca Italiana" and collaborates with this institution for all activities relating to the realization of prototypes. Galvanin Spa also maintains strong partnerships with such important universities in Italy as Padova and Trento and also with the engineering departments of American universities located in Washington and Boston. For this reason Galvanin Spa is synonymous with technology but also reliability and professionalism. Galvanin Lab, the new center of excellence of Galvanin Spa, was created following the need to provide a niche product, and continue innovating and proposing services of high quality in a market in perpetual movement. With the "Lab" creation at the end of 2008, the company moved its own headquarters to a new location in Italy: Via Longare, 82 – 36040 Torri di Quartesolo.
Galvanin Lab's objectives are to increase mold productivity, print lines and also research on bimetallic materials and to further develop current technologies. Galvanin Spa, as always, wishes to use cutting-edge technologies and is today interested in the development of nanotechnologies.
The company's main objective is to become the first Italian laboratory in such high specialization sectors such as medical, pneumatics, metallurgy … in fact in all sectors which have a high mechanical specialization.
For Galvanin Spa, quality is not an established fact, especially when we know that product quality is essential to the company's survival. For this reason teams of technicians are trained and dedicated to their work to continually manage and improve product quality.
For Galvanin Spa: "Product quality is directly due to the work completed by the machine operator". Moreover, particular attention is paid to safety for all the staff and rules, in accordance with established safety rules and procedures, notably the company's "Best four": Quality, Ethics, Security and Environment.
TopSolid, the choice to be the best
"The choice of TopSolid took into account fundamental factors which correspond with our value
added, our experience and seriousness in a sheet mold creation" explains Davide Zanatta, technical director of Galvanin Spa. Today more than ever, it's difficult to find a CAD/CAM solution which can satisfy the perpetual evolutions and technological needs of a company whose objectives include innovation and quality. In 2008 the company decided to renew its software park. Conscious of the importance of this change, Galvanin Spa decided to search and analyze different CAD/CAM solutions; after having tested and compared various software solutions, it chose TopSolid.
One of the requirements of Galvanin Spa was to work with a software which would be able to communicate and manage the entire product cycle in a parametric and associative way. TopSolid'Progress was the ideal solution with its powerful functions and regular updates, allowing the modification of components in the case of errors.
Another positive point was the 3D creation available on the work station which quickly enables checking of the optimization of positioning and obstruction thereby considerably reducing test times, all of this without running the risk of interferences with the integrated dynamic study. It is also possible to save previous personalized components with already existing assembly processes, to exploit the standard libraries equipped with a large variety of parameters.
TopSolid'Progress is a high-performance software solution, which optimizes strip creation. From simulation to the mold development, with TopSolid the operator has access to tag definition, punches and folding; these functions guarantee an excellent simulation for the sheet deformation. TopSolid'Progress has excellent and very complete 2D tools and functions which enable the use of executive files with outline and specific shares and also includes all the other tools necessary to carry out a pilot study of the mold in 2D and 3D. Today Galvanin uses TopSolid'Cam and TopSolid'Wire to complete its production cycle (between Research and Development, the Engineering/Design department and the workshop).
A partnership synonymous with success and quality
"TopSolid is the solution used by Galvanin Spa to continue to excel in 3D creations and in complex mold production." says Davide Zanatta, director of the engineering department of Galvanin Spa.
Today Missler Software Italy and Galvanin Spa work together to improve their knowledge and share their own techniques and experiences. Both companies have always believed in collaboration between suppliers and customers and this in order to continually increase quality, service and turnaround times. Galvanin Spa and Missler Software Italy participated together in the Eurostampi 2010 moldmaking fair will took place in Parma in 2010.
---
Need more information
A QUESTION ABOUT OUR
PRODUCTS OR SOLUTIONS?