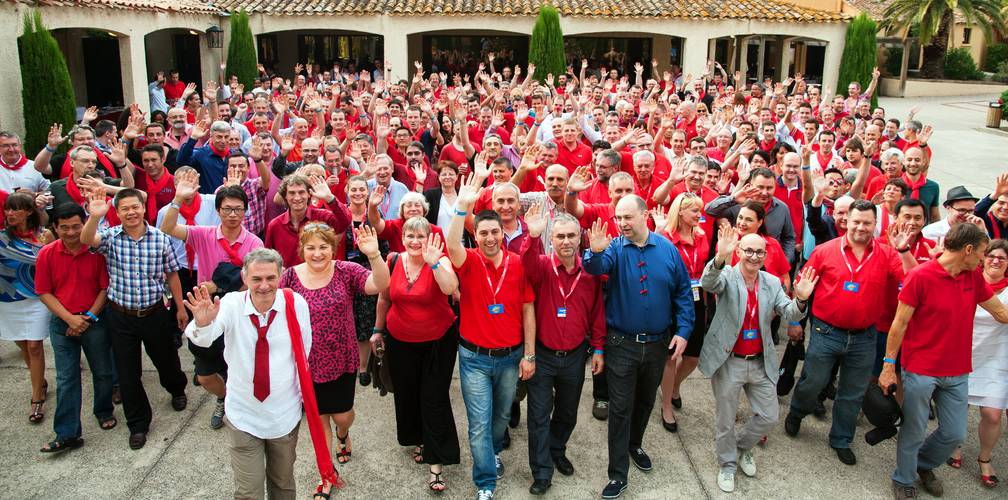 Missler Software celebrated its 30-year anniversary with its employees and loyal international resellers, bringing together more than 300 participants in Arles, in the heart of the Camargue, from June 10-14, 2015.
During the plenary session, Christian Arber, CEO of Missler Software, spoke of the excellent performance since the founding of the company, which once again reached a record turnover of €30 million in 2014. Missler Software's success lies in the fact that 30% of its turnover is reinvested in research and development. Jean-Luc Rolland, Technical Director, confirmed the complete overhaul of the TopSolid range of products to version 7 with the aim of putting ever more efficient and competitive products on the market. Finally, Marc Choquin, Sales Director, talked about the export success of TopSolid thanks to a strong network of 50 resellers and more than 15,000 customers worldwide. He also confirmed Missler Software's ambition to double sales of TopSolid to achieve a combined turnover of €100 million over the next decade.
Missler Software also invited two special guests and prestigious partners: Mr Bréart, Global Technical Director for Tooling, at SIDEL and Mr Riedemann, Chief Director of Engineering at DMG MORI.
Finally, the plenary session closed with a speech from Edgar Grospiron, 1992 Olympic mogul skiing champion, who made a special appearance to motivate teams by drawing on his high-level sporting career.
Product managers took advantage of the event to present the new 2015 version of TopSolid during workshops and to involve resellers, who themselves participated in the demonstrations.
The anniversary celebrations kicked off on Friday when the entire staff of Missler Software joined the teams already in place. Everyone took part in the team-building sports activities with a spirit of joy and good humor - an opportunity to establish or strengthen bonds between French and foreign employees. Staff also had a chance to discover the Camargue region by taking part in the various excursions offered.
Two evenings were particular highlights of the anniversary celebrations. Firstly, the dinner and awards ceremony to reward the most improved resellers and those with the best sales results, as well as the best sales people in France, all to the sound of gypsy guitars in the Manade Jacques Bon. Finally, the gala dinner capped off the festivities. It was an evening with a spellbinding equestrian theme, where Mario Luraschi became one with his horses. Senior Management again expressed its thanks to all those who have played a part in their story, with a vitality and an energy that have never wilted over those 30 years. A special tribute was paid to Dominique Laffret, VP Strategic Partnerships and former director of CN Industries, for his career at Missler Software. Dominique Laffret is retiring after many years of faithful service, well almost, since he will still be with Missler Software two days a week.
All participants left smiling and motivated to take on new challenges!
---
Need more information
A QUESTION ABOUT OUR
PRODUCTS OR SOLUTIONS?